Gordon stumbled into the coconut business through his first job in a large desiccated coconut factory, where he learned about all things coconut. In 2005, he and his daughter (she is still the CFO today) created a joint venture business with Dr. Bronners his American partner.
What motivates your work these days?
Gordon took mandatory retirement aged 60, however as he still felt mentally alert, physically active and driven he wanted to keep working. Due to his fantastic network in country and overseas he decided to create a startup business that he continues to run today at the impressive age of 79 years. Plus he said, he still needs the money (playful laughter).
Who has most influenced Gordon's life?
In the earlier stages a retired government servant taught him how to practically administrate business, how to follow up, write letters, chase people and track workflow. These old school skills are vital things needed to keep a business progressing and helped him build a solid business foundation.
In the later stages of his life, his wife has guided him into a softer and gentler approach to his relationships.
What experience particularly shaped you?
Whilst Gordon was working for the public conglomerate, one of his work assignments was to deal with the Sri Lankan banks on behalf of around 10 export companies. At this time he found they were at his fingertips and he carried a lot of clout. Soon, however, he came to understand that this privilege was only going to last as long as his position. This, he said, taught him the fickleness of man.
Which current innovation piques your curiosity?
Gordon is very much interested in the automated method of de-husking coconuts. In his factory they require around 150,000 coconuts de-husking per day, and to keep the freshness, the coconuts must be either de-husked on the same day of usage, or used within 24 hours. A skilled labourer can manually de-husk around 2,500 – 3,000 coconuts per day, however, costs of living are increasing and with it, salaries.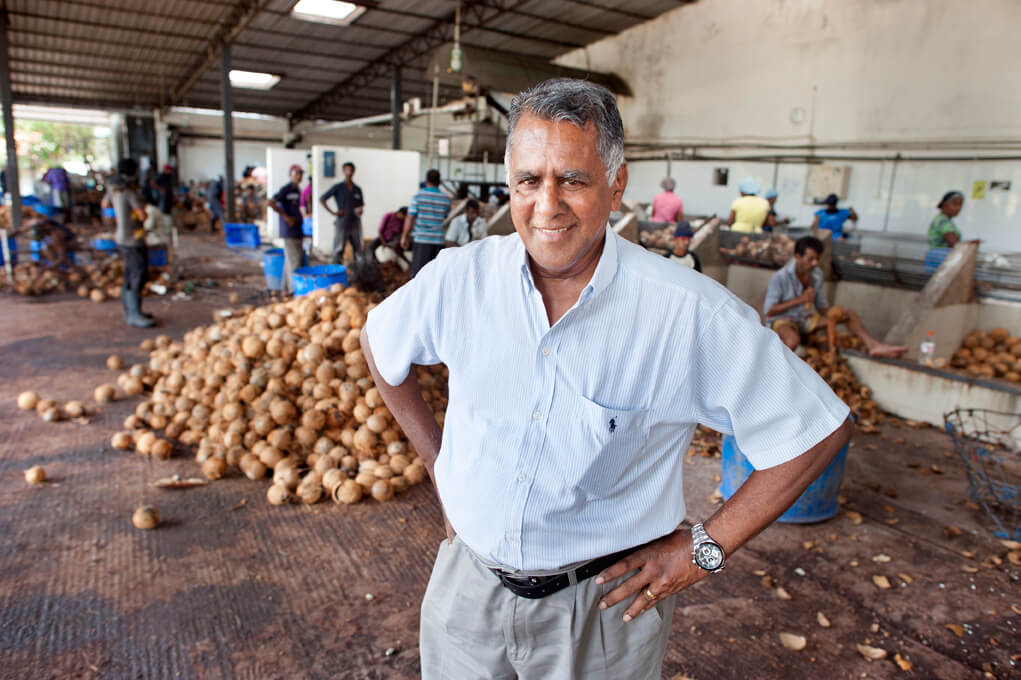 Technology could provide the solution through an automated de-husker, and Gordon has trialed one which could potentially de-husk 7 – 8,000 coconuts per day, overseen by 1 or 2 operators. The machine had limitations however, as it struggled to cope with the different sizes of coconuts and there is no time for size sorting in the process. It is also important that the machine can rip the husk off in such a way that the fibres are not destroyed, broken or shortened, as fibres are required to be as long as possible to be fit for purpose. These two issues still need to be overcome to produce a workable tech solution for this process.
Gordon also has an interest in another adaptive technology, robotic coconut tree climbers. Currently human climbers need to climb trees of around 40 – 50 feet. Robot climbers could counterbalance the current focus on dwarf coconut varieties that are springing up.
His final thought was that thought needs to be given to how to increase the extent of plantations. In Sri Lanka and India there is a need to increase acreage and production. Many trees are 50 -70 years old and senile. Hybrid trees as a solution are the contemporary thinking, as they can potentially start bearing fruits at 3 years old. Gordon wonders though how long their life-cycle productivity will last. As he mentioned, if they only keep fruiting for 10 – 20 years, then the turnover will be very fast and require more sustained efforts and resources. Still, he is happy to support any measures that ensure "coconut will have another sunrise".
What is next for your business and the coconut?
Gordon's business has moved into coconut milk, cream, chips and others and he feels virgin coconut oil (VCO) has perhaps reached its peak.
COVID has had an impact, slowed down business at times, changed the way it runs, prices dropped for a while, although there has recently been a small upswing.
For the coconut he has concerns that there is some unscrupulous practice in the sector, with some suppliers mixing VCO with lower grade refined, bleached and deodorized (RBD) coconut oil, yet selling it as pure VCO. He hopes for an end to this adulteration practice and has informed his markets about the issue to prepare them against it.
Gordon sees his business unit of coconut milk, canned and also in tetra-packs, growing. In Sri Lanka he notes that they are trying to limit the amount of coconut fibre raw materials leaving the country to China, as the long fibres are not available for processing into upholstery (for cars and furniture) in country. Other fibres that are exported to China are returned in product form, such as brushes, and are actually cheaper than the original raw material. These things need to be solved.
Gordon's final note "demand is hope" as long as consumers want coconut products, solutions must be found.
December 8, 2021
Categories: