Texture, appearance and flavor. These are the three essential characteristics required to make plant-based animal protein alternatives work, and given that coconuts are so versatile in texture and appearance, absorb flavors so easily, offer a variety of nutritional benefits (with high levels of manganese, copper, iron and fiber) and have so many potential uses (such as coconut butter, coconut flour, coconut oil, coconut meat, coconut water, coconut milk and shredded coconut) it is understandable why coconut is rapidly becoming "the other white meat."
Five Ways Coconut Is Replacing Animal Protein As The Other White Meat
Texture, appearance and flavor. These are the three essential characteristics required to make plant-based animal protein alternatives work, and given that coconuts are so versatile in texture and appearance, absorb flavors so easily, offer a variety of nutritional benefits (with high levels of manganese, copper, iron and fiber) and have so many potential uses (such as coconut butter, coconut flour, coconut oil, coconut meat, coconut water, coconut milk and shredded coconut) it is understandable why coconut is rapidly becoming "the other white meat."
Note to consumers: While coconuts are rich in healthy fats, that help to balance blood sugar, reduce inflammation and fuel the nervous system, not all coconut-based animal protein alternatives are healthy.
That said, here are the top five ways that coconut is being used as an alternative to animal protein:
Bacon
Salty, smoky and crunchy! The crispy texture of baked coconut flakes, coupled with coconut's ability to absorb the flavors of smoked paprika coupled with maple syrup or barbecue-flavored spices, such as Peppatree Jamaican Zesty BBQ spice, make it a healthier substitute for everyone's favorite animal-based treat.
UK-based vegan chef, Gaz Oakley, elevates his Brussels sprouts with coconut bacon made of coconut flakes, maple syrup, sweet smoked paprika, soy sauce, and coconut oil while at Cayman Cabana Oceanside RestoBar in the Cayman Islands, you can enjoy a Local Market Salad with fresh greens generously adorned with the crispy salad topping. At Plant Theory vegetarian restaurant on Miami Beach, you try a spinach melt with a side of coconut bacon or pick up some Phoney Baloney Coconut Bacon bits at the supermarket for only 15 calories a serving. Yum.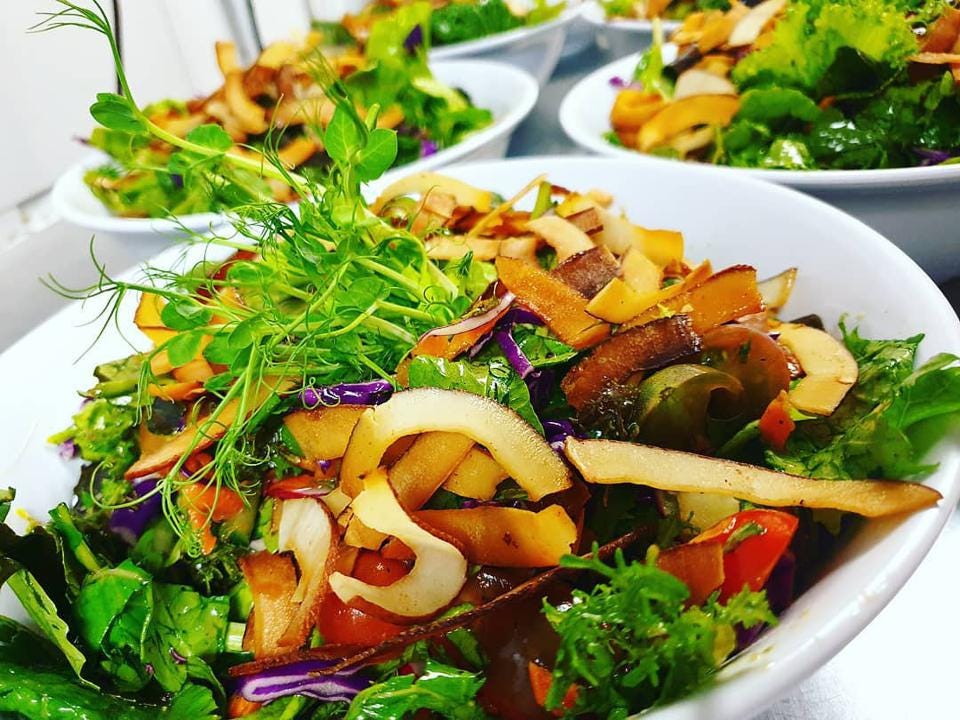 Fish
The global plant-based fish market is projected to grow at a Compound Annual Growth Rate of around 28% between 2021 to 2031, and given that coconut meat makes an excellent fish substitute because of it's texture and ability to absorb flavors— it couldn't be a better time for coconut meat to step in as a fish alterantive. At farm-to-table restaurant Cayman Cabana Oceanside RestoBar in the Cayman Islands, for example, the most popular item on the menu is the plant-based Coconut Ceviche, made from the meat of fresh young and firm Caymanian coconuts, fresh onions, local scotch bonnet seasoning peppers, fresh herbs and limes, garnished with local mangoes when in season and served with fried local breadfruit and sweet potato chips, used as scooping spoons.
Burger Patties
The use of coconuts in plant based patties or as a substitute for typical ingredients in plant based burgers provides a unique flavor that can be paired well with salsas, dips and chutneys. In the Philippines, coconut milk is extracted from grated or shredded coconut meat known as Sapal ng niyog or coconut pulp, the by-product of which is then converted into a burger patty. The sapal burger or niyog burger, as it is called, is a Keto-friendly ovo-vegetarian dish, but is not vegan as eggs are included alongside flour, onions, garlic, soy sauce and kinchay (flat leaf parsley). Not only do coconuts provide an amazing flavor in the sapal burger, but the use of coconut pulp is also a means of reducing waste in the traditional process of extracting gatâ (coconut milk) which is used to make a variety of dishes in Filipino cuisine, known as Ginataan.
Animal fat
Coconut oil is more saturated than typical plant-based oils, making its texture similar to oils that are animal-based. It is for this reason that alternative meats that are touted as "tasting like the real thing" all seem to be using coconut fat or oil. Beyond Meat and Impossible Burger use chunks of coconut oil to replicate animal fat in their plant-based burgers. Hooray Foods has also used proprietary emulsion-forming technology with special ingredients: coconut oil, rice flour, tapioca starch, liquid smoke, umami seasoning, maple syrup, salt, and beet juice concentrate in its plant based bacon, that critics say tastes surprisingly like the real thing. Israeli startup Redefine Meat 3D-printed beef substitute that reportedly mimics flank steak also makes use of coconut fat as a critical ingredient. Given that coconut oil consists of between 80 and 90% saturated fat, however, doctors advise that it should be consumed sparingly. For this reason, cultivated animal fats (created in the lab) may begin to replace coconut oil, as an alternative for those who are not opposed to consuming lab-grown animal protein.
Milk
Coconut milk contains one-third the calories of cow's milk and half the fat. It is no surprise then that it has become one of the most popular dairy alternatives, providing sweetness without the extra sugar, and is projected to grow at a Compound Annual Growth Rate of 7.6% between 2021 and 2031 (Future Market Insights). In addition to drinking milk, the use of coconut milk in yogurt, ice creams and vegan deserts as a replacement for dairy has gone mainstream, with brands like Yoplait, So Delicious, Silk, Chobani and Purely Decadent joining the trend. And restaurants are getting creative as well. The Hempist, a vegan restaurant located in Hastings Old Town in the UK offers patrons a decadent "cheesecake" made of coconuts, while at Takoi, an Asian fusion restaurant, based in Detroit Michigan, you can try coconut milk ice cream served with mango purée and almond crumbs.
– Article reposted with credit to Daphne Ewing-Chow Senior Contributor Forbes