In late 2014, we set out to establish an impact investment in Indonesia. The overarching idea was to develop a robust and impactful project model that could engage at BOP (base of pyramid) and connect in with as many of the 17 SDG's of the UNDP as possible. The investment model was conceived as consisting of a micro factory in joint venture with coconut farmer(s), deploying appropriate technology and equipment under joint venture terms, a clear women livelihood focus, training and working capital support to produce a high quality Virgin Coconut Oil, food grade, certified ready for consumption with no further processing required, for commercialisation within the domestic and tourist market place of Bali, Indonesia.
The project would serve as a pilot demonstrator and training resource for a wider ambition to develop further BOP sites in Indonesia, ideally with a more critical social need profile and or in remote island location. Developing access to market and a sustainable eco-system for the output would to follow production establishment and after learning how it was all going to work on the ground.
Various coconut locations in Bali were scouted for the pilot project, village level relationships interviewed and evaluated, local authority relationships engaged and impact investment agreements concluded.  Site construction of the micro factory (largely by the women who now operate it) commenced in August 2015 and after a short training period the VCO started flowing by October of 2015.
The final selection of a volcano mountainside location was unusual, given that much of the worlds coconut is grown in close proximity to the ocean, however, in the Tabanan Regency of Bali, approximately 18,000 hectares of coconut, of a variety known as the "Bali Tall" – is cultivated on the rich volcanic soils on and around Mt Batukaru.
Gunung Batukaru, is Bali's second-highest mountain at 2,276 m. It is the highest peak in the Bedugul volcanic area. Mt Batukaru has a large crater, the largest on Bali, but this crater is open at the southern end, allowing the river Mawa to escape. It is this that gives it the name "Batukaru", which means "broken coconut shell" in Balinese.
Tabanan is a very special rural area of Bali with dense rain forests, panoramic mountain and sea views, deep valleys and picturesque rice terrace farming, along with coconut, cacao and coffee. As a destination it is largely unknown to the tourists concentrated in Southern Bali.
Pura Luhur Batukaru is a Hindu temple located on the southern slope of Mt Batukaru, Bali's second-highest volcano, the temple is one of nine kayangan jagat (directional temples) meant to protect Bali from evil spirits. Originally built during the 11th century, Pura Luhur Batukaru was dedicated to the ancestors of the rajas of Tabanan. It was destroyed in 1604, but rebuilt in 1959.
The temple's most important shrine is a 7-tiered meru dedicated to Mahadewa, the God of Mount Batukaru. Pura Luhur Batukaru is an extremely sacred site for Bali's Hindu population. Many of it's grounds remain off-limits to visitors for various ceremonies and events throughout the year. The temple is also the first stop one must take before ascending to the summit of Mount Batukaru. A pilgrimage takes place to the peak once a year, and may see thousands of worshipers walk its trails.
The volcanic soils and high rainfall produce a high quality coconut resource. The micro factory has achieved a good level of productivity in comparison to similar micro factory operations in the Pacific and a great result in the composition of the virgin coconut oil after Certificate of Analysis testing.
The appropriate technology selected for the site, and the system preferred by CKC after consideration of the various technologies available for making VCO, is the DME or Direct Micro Expelling system developed by Dr Dan Etherington, AM, and patented by Kokonut Pacific.
This DME system is a very well developed, proven technology used around the world in remote coconut village communities. The DME system produces a great tasting, low moisture and high Lauric acid virgin coconut oil all within an hour of opening a fresh coconut. The supporting operating model ensures a robust village level production system navigating quality control, equipment operation and standards ensuring a high value agri market may be accessed. The patented DME press is a very well designed and robust piece of equipment suitable for years of maintenance free service making VCO. The system is zero waste, low energy and easy to operate by women, youth and special needs.
In comparison to the normal village level coconut situation whereby coconut only has low value options (selling a whole unprocessed nut to aggregators for export or the arduous work of copra production for sale to large scale high volume oil refinery) the DME system produces a high quality food grade product at the farm gate in a safe and convivial environment.
The coconuts are purchased from local farmers – hand selecting the best coconuts and all production activity occurs in the coconut grower community. The model is very serious about coconut sustainability, women livelihood development and small-scale farmer development.
The micro factory is operated by rural women from the surrounding community, most of who either did not have jobs prior to the project or worked in heavy outdoor seasonal
work such as road construction or agri-labour. The project created additional value added activities for the village include the packaging and labeling of retail product ready for distribution in Bali and processing of the coconut fibre residue (after making of the Virgin Coconut Oil) into animal feed stock.
A Bali relevant brand and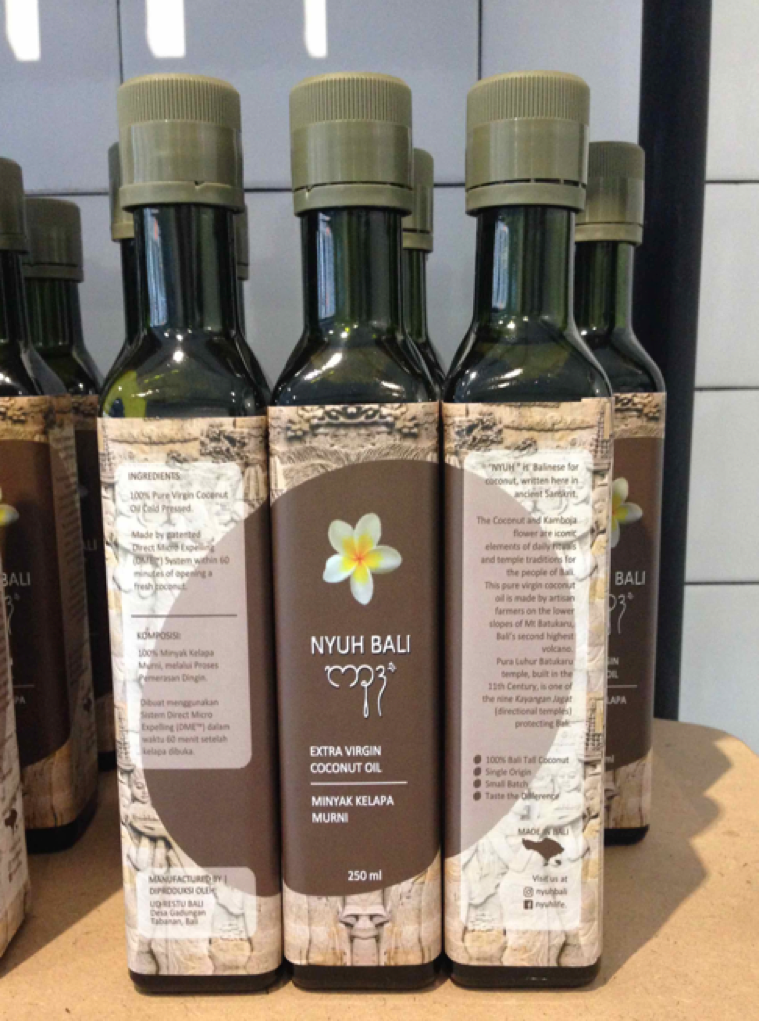 marketing language was developed in early 2016 to support distribution of the VCO domestically in Bali –  "Nyuh Bali" as "Nyuh" is Balinese for the mature brown coconut utilized for oil production.
In most agricultural based impact investments the post harvest stage is the most critical to ensure project sustainability. In many instances of Government, NGO or Development Finance Institution (DFI) engagement the post-production or post harvest challenges are ignored and the support disengages. We believe this outdated stance contributes to more project failure than the natural challenges of agriculture itself.
The market access aspects of the project are a significant challenge, and the skill sets and needs to be both producer and a marketer are quite distinct. This is an area of continuous engagement, development and refinement for this project.
Instagram: nyuhbali  |  www.cocooilco.com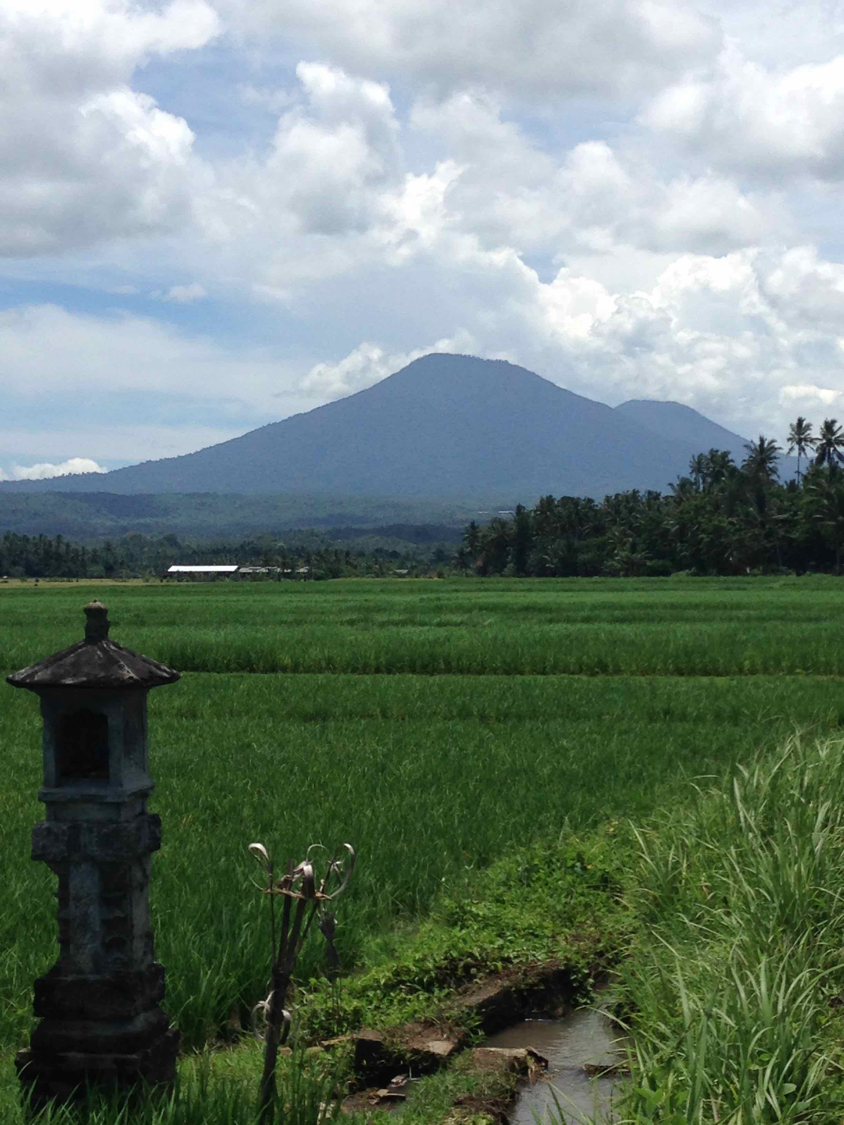 Please follow nyuhbali and enjoy the images we post of this project.
The Nyuh Bali micro factory location is now very attractive, located in a small valley directly beneath the coconut trees and in an area of stunning natural beauty. Tabanan is famous for its rice terraces at Jatiluwih, a UNESCO wor
ld heritage site as a result of Tri Hita Karana and the unique subak system of community irrigation for the rice farming.
Tri Hita Karana is the traditional philosophy for life on the island of Bali. Translating as the "three causes of well-being" or "three reasons for prosperity." The three causes are: Harmony with people, Harmony with nature and Harmony with spirituality and beliefs
Tri Hita Karana is regarded as the key to the island's prosperity, guiding all aspects of Balinese life, from village life, community, ceremony and rituals to spatial organization in architecture and to the irrigation system known as Subak.
The Nyuh Bali difference
Nyuh Bali DME® Extra Virgin Coconut Oil is the only handmade virgin coconut oil that is 100% village-produced within an hour of the opening the coconut. Most coconut oils in Bali claiming to be VCO in Bali are derived from the separation of coconut milk (oil v's water) and the only return to the coconut growers are a small price they receive from middlemen for their coconuts.
With so many coconut oil brands now on the market it's hard to know which coconut oil to choose. Separated or fermented oils contain higher moisture contents with "synthetic" tastes and smell, refined coconut oil processing removes the natural anti-oxidants and volatiles that give the Nyuh Bali pure virgin coconut oil its special coconut flavour and aroma. Most quality "cold-pressed" claimed virgin coconut oils are mass-produced in a large scale dairy-industry-like process with the final product a blend of different quality of oils.
Whole Kernel Virgin Coconut Oil
Most VCO is processed from white coconut flesh with the healthy brown coconut skin removed (pared) so the coconut residue is pure white for further refining into desiccated coconut. Nyuh Bali does not remove any part of the natural coconut flesh and makes a premium Whole Kernel Virgin Coconut Oil.
HOW WE PUT THE "EXTRA" INTO VIRGIN COCONUT OIL…
Our production process is located within coconut growing areas, virtually at the base of the coconut trees!
We make a great tasting, very low moisture content oil with a long shelf life within 60 minutes of opening a fresh coconut.
We hand select our coconuts in partnership with the farmers that grow them and only open the coconuts in small batches, ensuring zero fermentation before processing. We visually inspect each one for quality and grate the white coconut meat and the brown skin that coats the white (the testa).
Studies have shown that Coconut Oils that include testa are richer in mono-unsaturates and poly-unsaturates than other coconut oil samples. The phenolics and phytosterols, phenolic acids and tocopherol contents are higher too and studies indicated that the oil from coconut testa contained more natural antioxidants such as tocopherols, tocotrienols and phenolics and may confer greater health benefits.
Our production ethos is Zero Waste, Han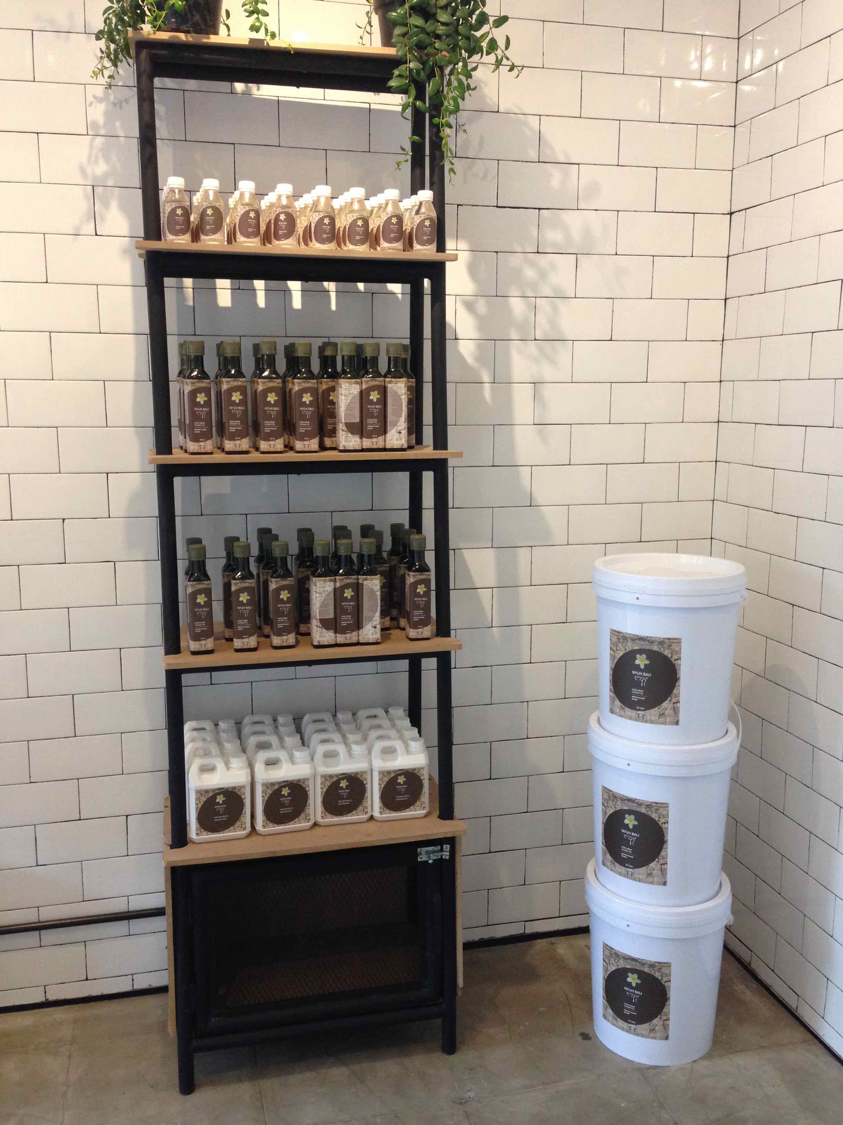 dmade, Single Origin, Raw, Unfiltered and Small Batch. That's why it's the best extra virgin coconut oil in the world!
Nyuh Bali Extra Virgin Coconut Oil is very different. We take our production process directly to the coconut growing villages in Bali. We select our coconuts in co-operation with the farmers that grow them and we employ men and women from the villages where coconuts are grown and where our oil is made. We make a great tasting coconut oil, very low in moisture with a long shelf life.
We are sensitive to Bali culture and spirituality, embrace Tri Hita Karana, are gender neutral in our employment, fair and sustainable in our methodology, zero waste in practice and give back to the coconut communities we partner with.
We are the only virgin coconut oil that is made in inclusive partnerships with the farmers that grow coconut, satisfying genuine marketing claims such as FAIR, SUSTAINABLE, TRACEABILITY, SINGLE ORIGIN, SMALL BATCH, HAND MADE, FRESH, NATURAL.
How do I use Nyuh Bali virgin coconut oil?
There are many ways to use coconut oil and incorporate the good saturated fats into one's diet.  Since it is a heart healthy heat resistant cooking oil, one can simply replace unhealthy refined vegetable oils with VCO.
Some people, who do not like the coconut taste, mix coconut oil with olive oil, natural palm oil or butter for cooking. Sometimes they mix it with a nut butter (like peanut, almond, or cashew butter) or with honey as a spread.
Since it is a solid below 24°C most of the time at room temperature, it can be a butter or margarine substitute for bread spreads.
This coconut oil greatly enhances the flavour of baked foods, making them mouth-wateringly good. Whenever a recipe calls for butter, margarine, or any other oil, VCO can be substituted. Many people simply eat it by the spoonful. Blend it in shakes and smoothies; stir into porridge; prick potatoes and other vegetables and roast in coconut oil; makes great popcorn!
October 18, 2017
Categories: