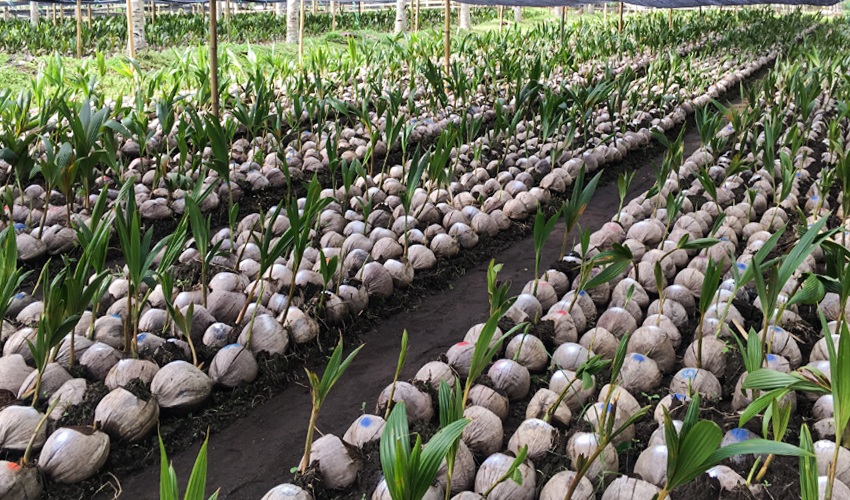 Food Security & Zero Waste
The Whole Nut; Coconut provides a unique investment opportunity for securing food security and clean energy under a zero-waste farming and processing model.
Plant based Food Security
Coconut Water • Coconut Cream • Coconut Sugar • Coconut Syrups • Coconut Vinegar • Coconut Oil • Virgin Coconut Oil • Coconut Flour • Coconut Aminos • MCT Oils • Coconut Butter • Desiccated Coconut • Coconut Milk
Renewable Clean Energy and Environmental Protection
Activated Carbon • Anti-Pollution • Coconut Shell Charcoal • Clean Cook Stoves • Clean Burning Briquettes • Deforestation Mitigation • Renewable Energy • Biomass • Architectural Composites
Geo Textiles and Organic Growing Mediums
Hydroponic substrates • Container gardens • Weed and Erosion control
Non-utilization of 90% of the coconut is a tremendous food security and environmental opportunity for any private and public sector stakeholders seeking to achieve change under the Sustainable Development Goals of the United Nations.
Currently;
Only 10% of the whole coconut is utilised under the large scale (historic) model of "copra".
Only 8% of the shell from coconuts is recovered in the form of charcoal or activated carbon.
Only 1% of the husk from coconuts is converted into coir and peat.
By visiting this page we hope you may wish to support these aims. For more resources please download our Infographic and The Whole Nut and visit;
The need: No one's life should be limited by how they cook. Yet globally, three billion people depend on polluting open fires and inefficient stoves to cook their food, harming health, livelihoods, and the environment. Women and girls, who often spend hours cooking and collecting fuels, are disproportionately affected. http://cleancookingalliance.org/