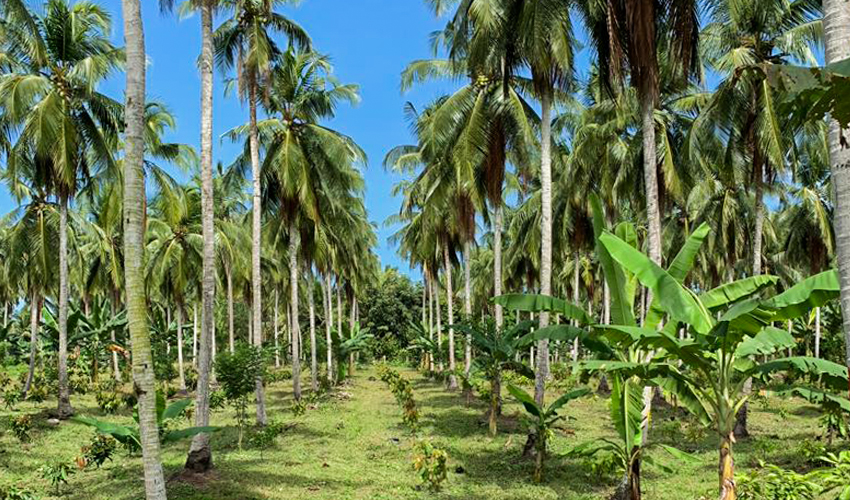 Biodiversity & Crop Diversity
We must think about where diversity in our food systems may come from, now and into the future. By understanding that securing good nutrition is about building sustainable food supply chains, protecting biodiversity and implementing crop diversity, we may achieve more in developing and protecting agro-biological diversity in our global food systems.
Smallholder farmers are effective practitioners and champions of food biodiversity. Coconut farmers showcase agricultural diversity within the spacings between the tall palms that shade a variety of valuable tropical food crops;
Exotic spices, fruits and vegetables, banana, cacao, coffee, cassava, vanilla, ginger and turmeric are a few of the shade growing food crops that do well within coconut. Livestock also graze comfortably on grasses under the coconut palms.
CKC promotes the benefits of crop diversity and good practice for sustainable agro-biodiversity in smallholder farming systems and advocates intercropping within the existing global coconut estate.
By acting now to promote and conserve biodiversity resources we may attend to improved smallholder farmer economics, the future impacts of climate change scenarios and to the present and projected global nutrition needs.
CKC is sponsoring and supporting the conservation of crop diversity with coconut germplasm protection through the establishment of an international in-situ germplasm collection under an agro-tourism and education model situated in within the tourism destination of Bali, Indonesia. "Coconut World Bali".
By visiting this page we hope you may wish to support these aims.
For more resources please download our Infographic and The Whole Nut and visit;
Crop Diversity: Why It Matters https://www.croptrust.org
Agricultural biodiversity nourishes people and sustains the planet: https://www.bioversityinternational.org/