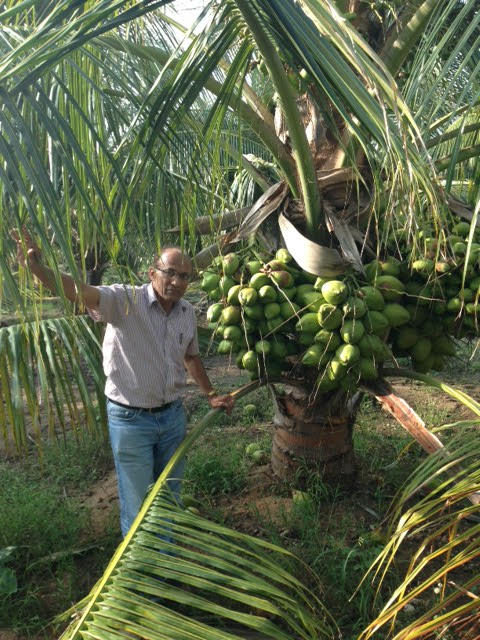 David Jonathan Lobo B.A  
Chairman, Deejay Group of Companies (comprising of Deejay Coconut Farms Pvt Ltd, Deejay Agro Processed Foods Pvt Ltd, Deejay Farms, Deejay Tissue Culture Labs and Deejay Agri Support Foundation).
"There is Only One Way to do a Task, The Best Way"
David Lobo, as the Chairman of the Deejay group takes active interest in all areas of the businesses, to bring in the best technical, social perspective and innovation, driving the Research Department (R&D) teams to focus and deliver on the research objectives of the Company.
The Deejay Group commenced research into Coconut Breeding in 1983, and today Deejay Farms is the largest Hybrid Coconut Breeding entity in India, if not the world, that has developed the highest producing hybrid coconut tree in India. Tens of thousands of small farmers have had their quality of life improve dramatically with Deejay Hybrid Coconut Seedlings. To date, Deejay has supplied the Indian coconut market with over 4 million high quality Coconut Seedlings. He and his R&D team has researched and worked on many projects and were rewarded with MSME's Innovation Excellence Awards 2017, for the innovation of embryo culture technology and the international movement of embryo plantlets.
David has spoken at several International Forums and signed many international joint Ventures for Technical transfers. His passion is to support small and marginal farmers to increase their income and quality of life, within a short period of time, and since over 90% of the world's coconut farmers are 'small farmers' this is a primary objective of Deejay Farms as a change agent.
David is highly active in Corporate Social Responsibility development. In 1982, he jointly launched The Bridge Foundation, a Micro Enterprise Development initiative, which has become one of the largest Trusts in this space. Tens of thousands of families have risen above the poverty line due to The Bridge Foundation, with women comprising the largest beneficiaries group.
David is also a founder, and Past Director of IIM Bangalore, The Xavier Institute of Management and Entrepreneurship, a non-profit management education institute based in Bangalore. It is rated as being one of twenty best run Management Institutes in Asia, as evaluated by an independent French rating company.
David is fully focused on growing and developing Deejay Group globally, developing and providing farmers with the best hybrid seedlings with complete technical support. To uplift the small farmers from day to day financial crisis and to liberate them from the middlemen aggregators and the money lenders, David Lobo started the Deejay Agri Support Foundation (DASF) in 2014.